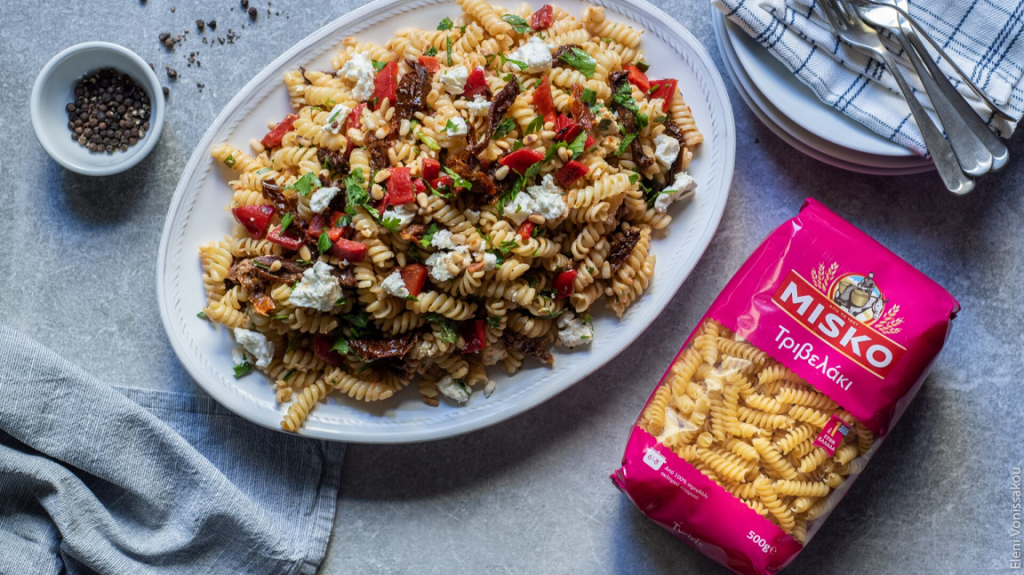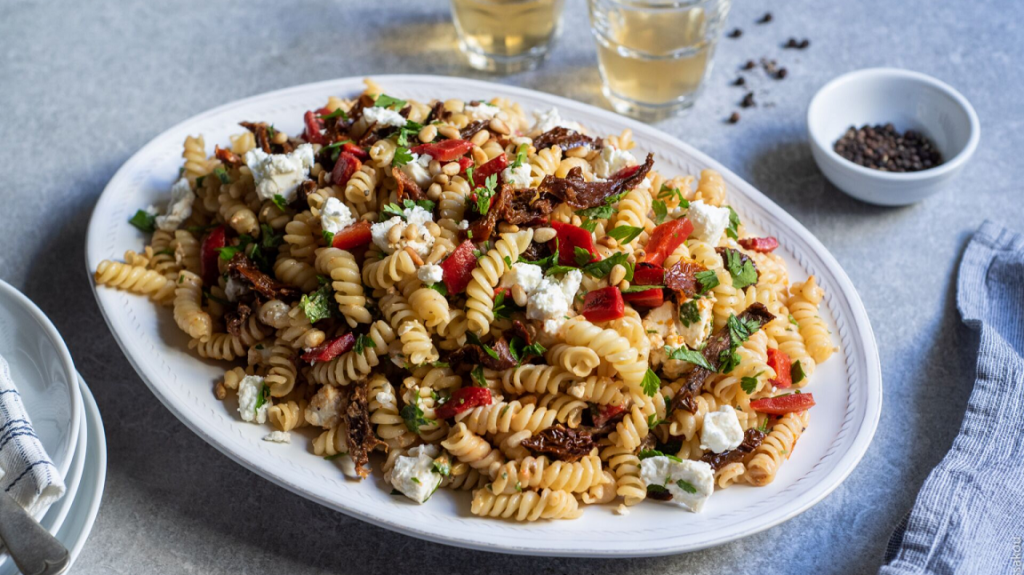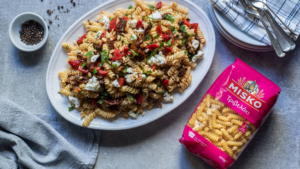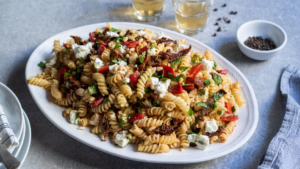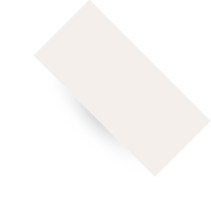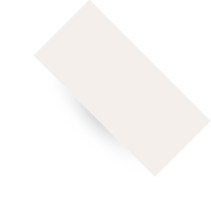 10΄
Preparation
Time

15΄
Cooking
Time

easy
Difficulty

5
Portions

INGREDIENTS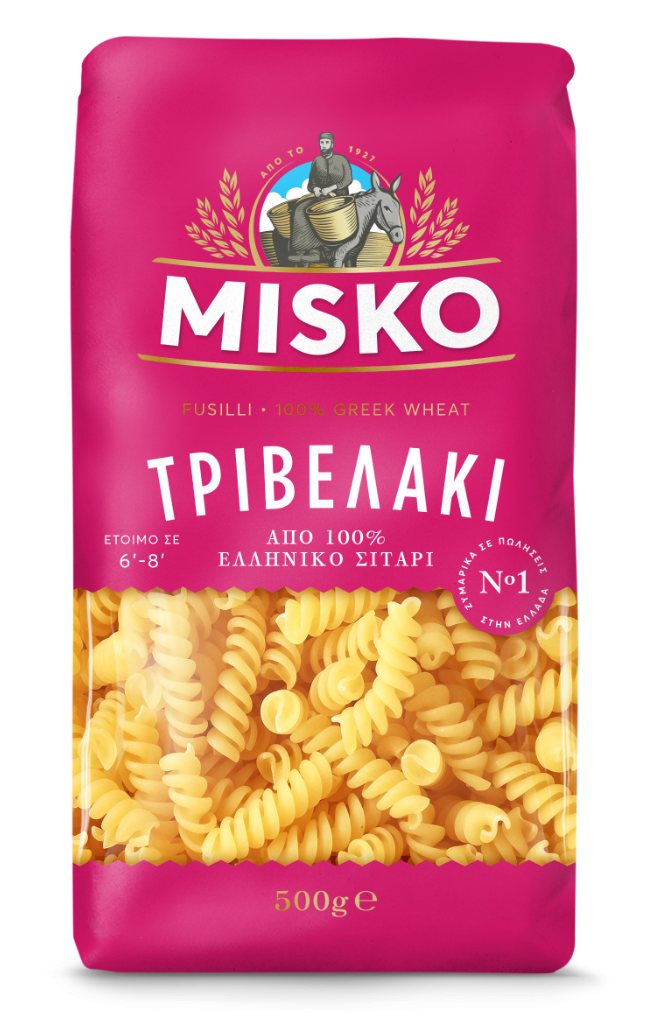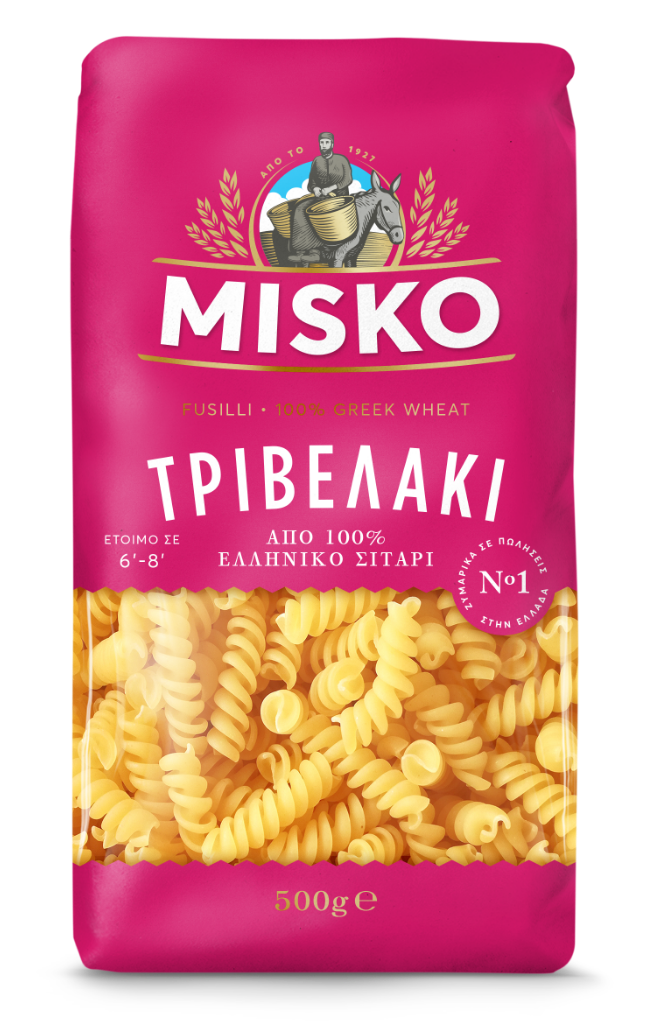 MISKO Twirls (Fusilli)
500 g MISKO Twirls (Fusilli)
35 g salt (for boiling the pasta)
1 tbsp. olive oil (for the pasta)
130 g sun-dried tomatoes, finely chopped (from a jar stored in oil)
90 ml (6 tbsp.) goat's milk yogurt
60 ml (4 tbsp.) olive oil
60 ml (4 tbsp.) red wine vinegar
1/2 tsp. freshly ground pepper
150 g grilled red peppers, finely chopped (from a jar)
20 g (about 1/2 cup) parsley, finely chopped
200 g feta cheese, crushed

METHOD
Fill a large pot with 5 liters of water, bring water to a boil and add 35 g salt and the MISKO Twirls (Fusilli). Boil for 7 minutes and then strain the pasta. Return the pasta to the pot and add one tablespoon olive oil. Shake the pot to cover the pasta with the olive oil and put it aside.
Put 50 g of the sun-dried tomatoes, the goat's milk yogurt, the olive oil, vinegar, garlic, salt and pepper in a small blender. Beat until the mixture is fully incorporated.
Put the pine nuts in a non-stick pan and heat on high for about 1-2 minutes. Once they start turning golden brown, immediately transfer them to the pot with the pasta.
Next add the yogurt mixture, the peppers, 80 g of the sun-dried tomatoes and the parsley to the pot and stir well. Finally, add the Feta cheese and mix gently. Serve at room temperature.
Note
In the beginning the dressing is a bit strong because of the vinegar but it tastes milder once it is mixed with the pasta and is allowed to "sit" for a while.