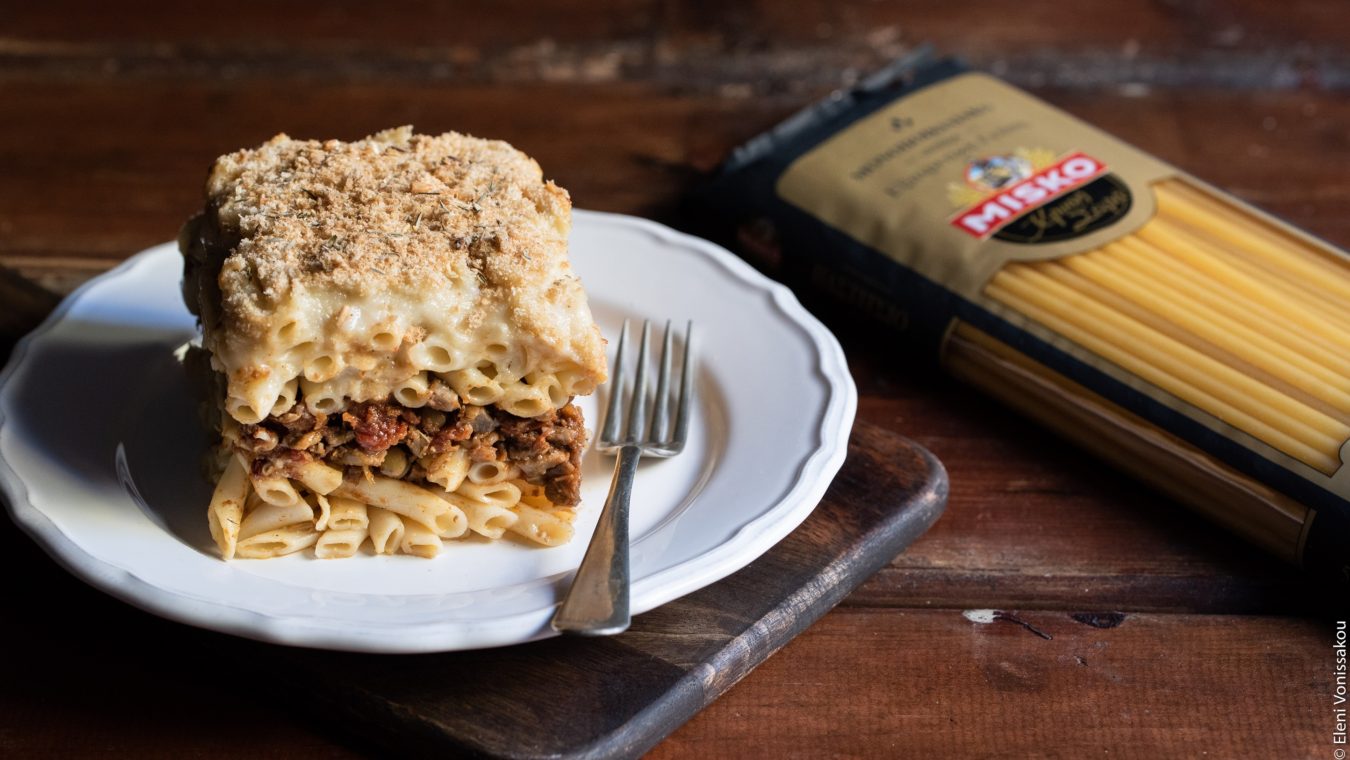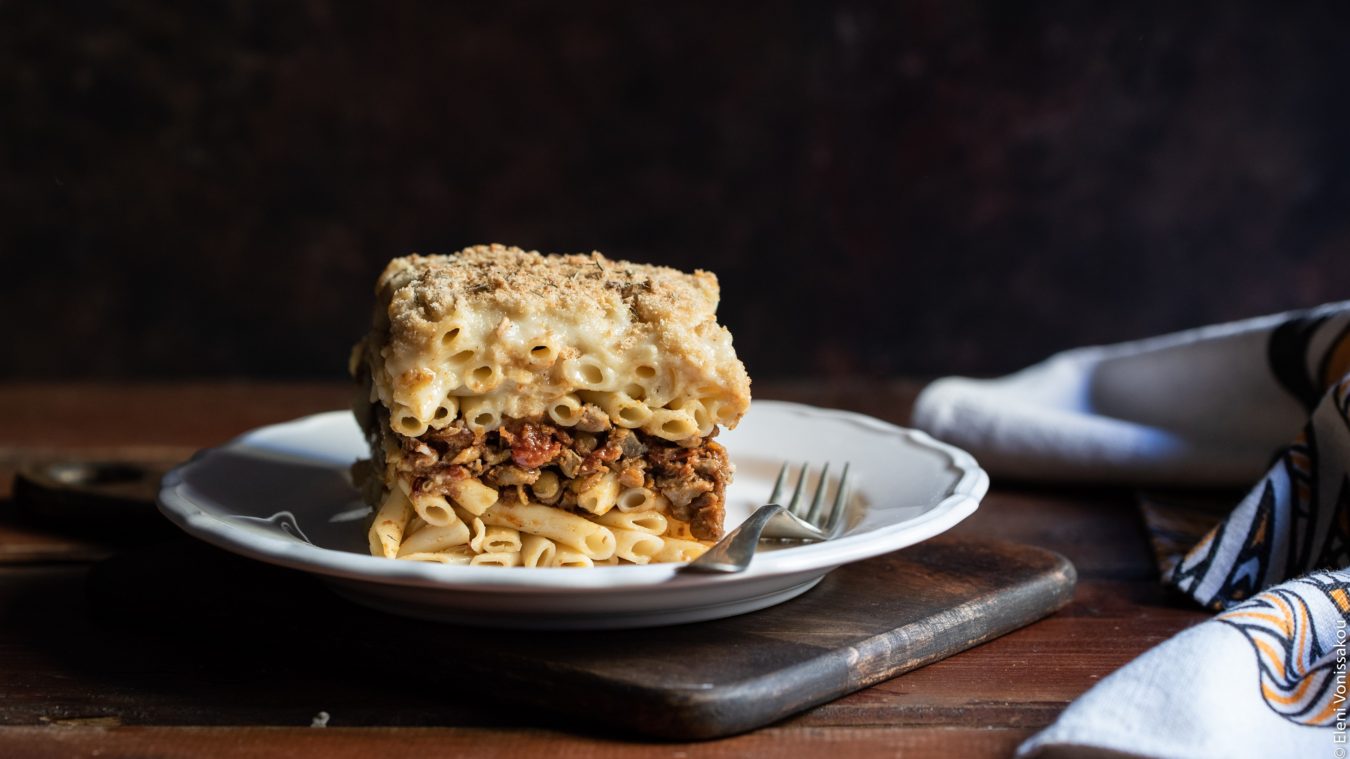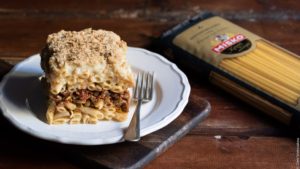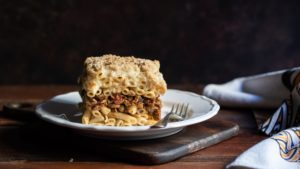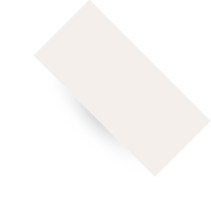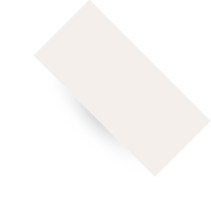 45΄
Preparation
Time

100΄
Cooking
Time

medium
Difficulty

6
Portions

INGREDIENTS

MISKO Macaroni Pastitsio Golden Line
For the "Bechamel"
1 liter oat "milk" (found in large supermarkets)
4 tbsp. nutritional yeast (found in stores that sell organic products)
1 tsp. American style mustard
For the sauce
250 g lentils, boiled until quite soft and strained well (weight after boiling approximately 630 g)
½ tsp. dried hot red pepper flakes (Bukovo)
100 g onion, finely chopped
250 g mushrooms, finely chopped
400 g (1 can) chopped tomatoes
½ can (use the can from the chopped tomatoes) water
For the pastitsio
500 g MISKO Bucatini No2 Golden Line
3 tbsp. bread crumbs or vegan rusks

METHOD
For the "Bechamel":
In a 4.5 liter pot, put the semolina, corn flour and oat milk and beat with a whisk. Heat on medium heat stirring constantly and bring to a boil until thick. Add the remaining ingredients for the bechamel sauce, stir and put aside to cool and set.
For the sauce:
With the hand-held tool for mashed potatoes, mash some of the lentils (not all). Put these aside.
In a small bowl, mix the tomato paste, balsamic vinegar, soy sauce and garlic paste and then put it aside.
In another bowl, mix the cinnamon, cumin, allspice, salt, thyme, bukovo, pepper, cloves and the bay leaf. Also put this aside.
In a large pan, heat the olive oil on medium heat. Sauté the onion for 4 minutes stirring frequently. Add the mushrooms and cook for 3 minutes until soft. Add the lentils and stir for one minute. Add the tomatoes, the water (use the water to rinse the can) and the mixture with the tomato paste. Bring to a boil, add the spices, lower the heat, stir and simmer for about 5 minutes. The mixture should be thick but not dry. Remove from the heat and put it aside.
Preheat the oven to 170°C for convection ovens (190°C for conventional ovens).
Boil the MISKO Bucatini No2 Golden Line pasta according to the directions on the package. Strain well, drizzle with 2 teaspoons of olive oil and stir briskly. Divide the pasta in two parts, the one with a bit more quantity. To that pasta, add 2 tablespoons of the bechamel sauce and stir. Spread in a 26 x 33 cm pan.
Over the first layer of pasta, evenly spread the sauce with the lentils. Add the rest of the pasta and spread the bechamel sauce over the pasta.
In a bowl, mix the bread crumbs or rusk crumbs with one teaspoon olive oil and one teaspoon thyme. Sprinkle this over the pastitsio and bake in the preheated oven for 35-40 minutes or until lightly golden brown.
Allow the pastitsio to "rest" for at least thirty minutes, slice in pieces and then serve.
Notes
You can substitute the oat "milk" with any other plant-based milk of your preference.
The "bechamel" and the sauce with the lentils can be prepared a day in advance.