PRESS RELEASE
03 ΜΑΪΟΥ, 2018
The MISKO Hellenic Wheat Program opens its doors to the first Pilot Farm in the Prefecture of Magnisia The pilot farm suggests cultivation practices for the sustainable production of high-quality and low-cost durum wheat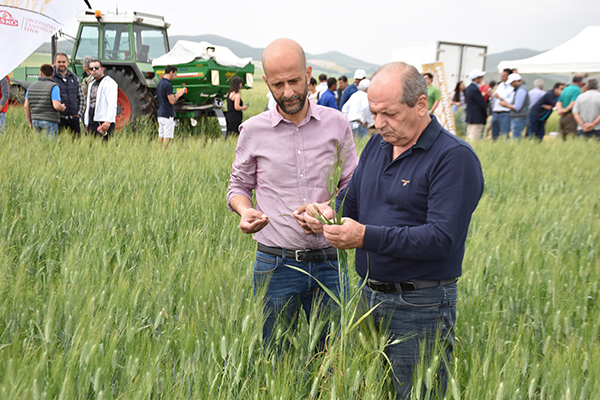 One of the objectives of the MISKO Hellenic Wheat Program is the dissemination of the proposed cultivation practices among farmers so that they may benefit from the reduction of production costs and so that the quality of the pasta produced is improved. This is why MISKO has decided to set up a pilot field where all proposed technologies will be tested.
Farmers can visit the field throughout the year and see for themselves the implementation of these practices. The Pilot Farm of the MISKO Hellenic Wheat Program, located in Perivlepto, Prefecture of Magnisia, in an area covering 80 acres, was visited by farmers and geotechnics from Magnisia, Ptolemaida, Larissa, Karditsa, Thessaloniki, Serres, Drama and Thebes, as well as professors and students from the University of Thessaly, and they were all informed in detail about the specific cultivation practices by the heads of the MISKO Hellenic Wheat Program. During the presentation at the Pilot Farm and under the guidance of Emeritus Professor and Head of the MISKO Hellenic Wheat Program Mr. Theophanis Gemtos and the Agronomist, Head of the Department of Purchase of Raw Materials Mr. Kostas Theocharides, the visitors observed the different sections and each cultivation practice applied. Also, all visitors had the opportunity to take a close look at the first results of the sowing process, and to ask interesting and useful questions to the group, which could help develop the MISKO Hellenic Wheat Program.
The plot where the pilot field is located is divided into 5 sections. One section was cultivated in a conventional way, whereas the other four were cultivated with various cultivation practices such as crop rotation, soil cultivation without ploughing, use of a variable fertilization system and precision farming in differentiated fertilization. Drip irrigation was implemented in all sections. At the same time, to support the farmers, the program suggested that they use the granoduro.net software. This helps farmers to make decisions during the farming season and is made available to interested farmers through MISKO's associates who collect the wheat from producers.
The crops from the Pilot Farm of the MISKO Hellenic Wheat Program will be harvested and an analysis will be carried out on the quality characteristics of the seeds to assess the results of this action.
Scientific Team:
Dr. Theofanis Gemtos, Scientific Coordinator of the MISKO Hellenic Wheat Program_ 6947 430173
Dr. Christos Kavalaris, Organizer of the MISKO Hellenic Wheat Program _ 6947 691520
Kostas Theocharides, Head of the MISKO Hellenic Wheat Program_ 6945 875540
Contact person: Anthoula Yiaka Telephone Nos: 24210 95781 | 6934 435289
Email: [email protected]
Mill | Volos – Industrial Area A 38500 | Magnisia | 24210-95781