PRESS RELEASE
23 ΜΑΪΟΥ, 2017
MISKO Whole Wheat-The Taste of Good Living Big Contest for Whole Wheat Pasta Enthusiasts!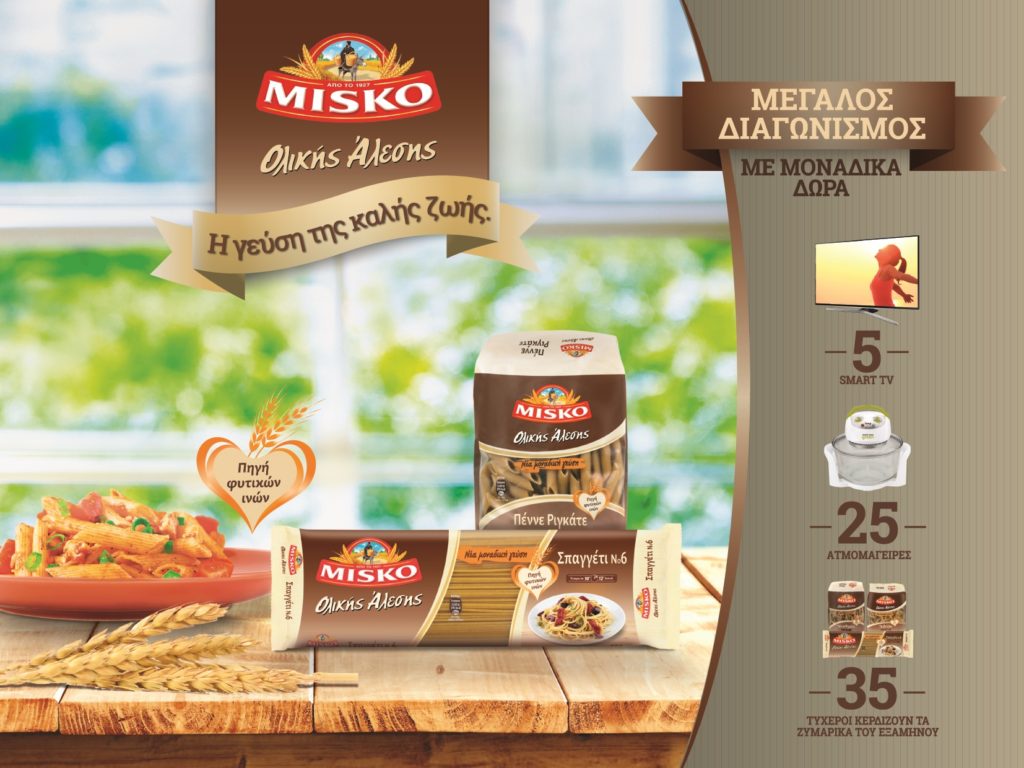 It is essential to have a good and balanced diet. But what is it that makes MISKO Whole Wheat pasta so good? MISKO Whole Wheat pasta contains complex carbohydrates and, in combination with fiber, is an ideal choice for a balanced diet so that everyone, children and adults, may enjoy its Unique Taste. Enjoy MISKO Whole Wheat Pasta and a Great Contest.
The process is simple and everyone can enter and play as many times as they want, since there are no limitations. All that is required is for you to choose the MISKO Whole Wheat package with the yellow sticker and the hidden code. Then, you enter the MISKO Whole Wheat website (http://www.misko.gr/olikis-alesis/megalosdiagonismos/) and fill in the code in the special box or you send it to 19599 and claim one of the Big Prizes, including 5 Smart TVs and 25 steamers, while 35 lucky ones get free MISKO Whole Wheat pasta for six months! By consuming a dish of MISKO Whole Wheat pasta, you get 25% of the fiber you need on a daily basis.
Prepare the delicious and light dishes that we recommend in every package, use your imagination and enjoy the wonderful flavor of MISKO Whole Wheat pasta! Especially in the summer, the new MISKO Penne Rigate Whole Wheat can be an ideal choice for vegetable salads. Discover yourselves "The Taste of Good Living" with MISKO Whole Wheat pasta.