PRESS RELEASE
15 ΜΑΪΟΥ, 2019
JOY EVERY DAY with the MISKO whole grain pasta too!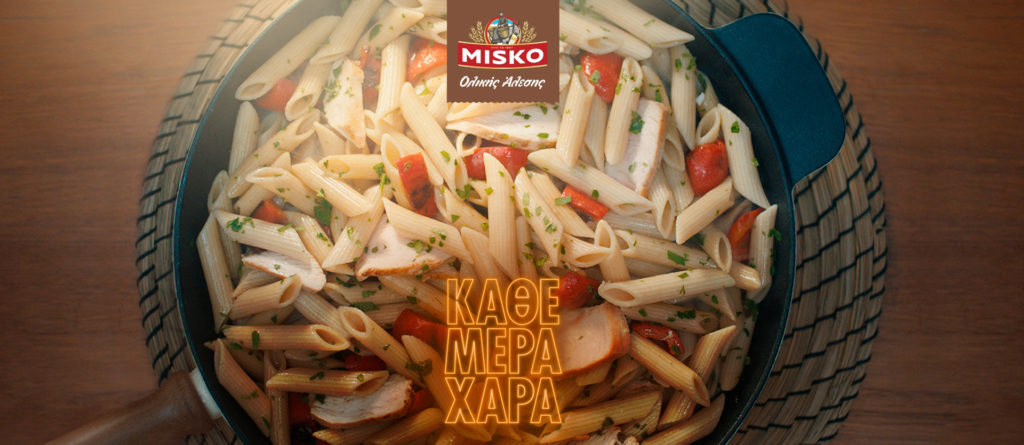 MISKO , our favorite pasta brand in Greece, presents its new promotional campaign for MISKO wholegrain pasta which is also here EVERY DAY to fill your dish with JOY!
The film, which has been already launched, is based on simple circumstances of everyday life, which are transformed into "magnificent" moments for its main characters by just tasting one bite of MISKO wholegrain pasta. Because MISKO wholegrain pasta, more delicious than ever, in addition to nutritional value, offers the essential delight touch to all these small or big moments we spend with our loved ones.
Moments such as "the taste of victory" that the little protagonist feels thanks to the MISKO wholegrain penne rigate, enjoying the sweet taste of success in its mouth, or moments where even the most demanding palate indulges in the magic of pleasure, before a delicious shrimp pasta with MISKO wholegrain linguine.
Soho Square Athens has edited and created the new promotional movie which has been directed by Vasilis Bourantas and produced by Foss Production. The wonderful up tempo song that fills us WITH JOY EVERY DAY has been created exclusively for MISKO' s new film, is called Daydreaming, has been composed and produced by Rabbeats, while the lyrics and vocals have been written by Dimitris Aronis.
Enjoy the new movie about MISKO wholegrain pasta and fill…
* just… double click!